ENTWÜRFE UND ROHLINGE: Es ist spannend, einmal ein Märchen-Holzbild in den Händen zu halten, an dem man etwas über die Herstellungstechnik erkennen kann. Ich kenne halbvollendete Manufakturenarbeiten, auf der die rohen Linien zu sehen sind oder auch die Farbe des Rohlings. Auf der Rückseite sieht man die Farbe des Rohlings auch, aber manche Manufakturen haben die Figuren zuerst geweißt und dann erst bunt bemalt. Ich habe auch schon Figuren gesehen, die auf der Rückseite einen ersten Entwurf erkennen lassen. Auch das ist immer sehr interessant. Warum aber wurden manche schöne Arbeiten nicht vollendet? Vermutlich kam das Leben dazwischen: 1939-1945 könnte das durchaus der 2. Weltkrieg gewesen sein.
🇬🇧 DRAFTS OR BLANK WOOD FIGURES: It's very interesting to hold an unfinished wood picture in your hands. The manufacturers guarded their production secrets back then. I've known some half finished figures were you can still see the raw lines or the basic color of the work. Of course you can see the color on the back, but some manufacturers had painted the fronts of their figures white before applying the actual colors. And sometimes you'll even find half a sketch on the back which had been discarded when coloring the "new" front. Why did some figures never get finished? Maybe life interrupted: If it was 1939-1945 it might have been the 2. World War. (9/3)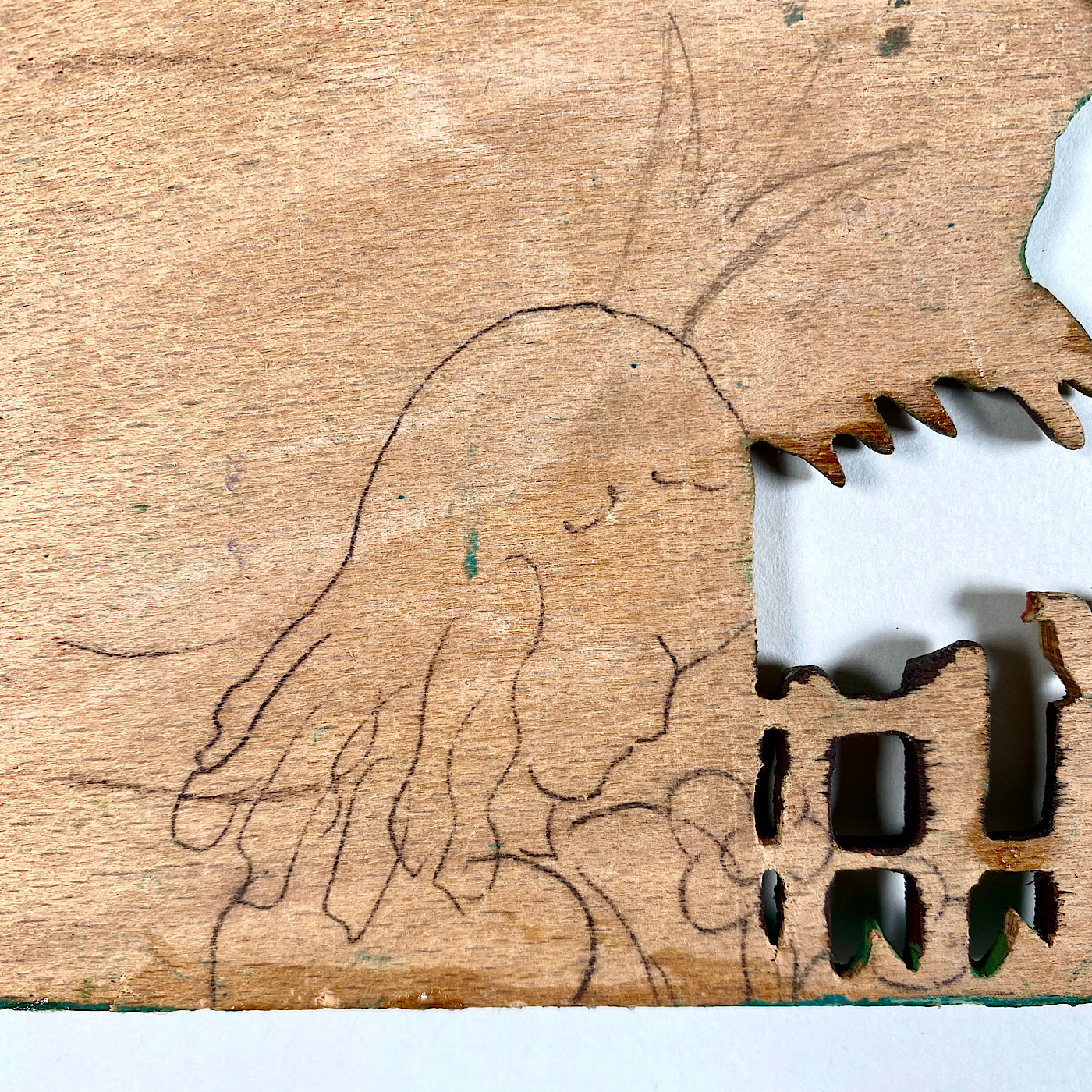 Laubsäge-Arbeit Hobby Figur Laubsägearbeit German Fretwork Figure Hobby Craft Item #laubsägearbeit #germanfretwork #hobbycraft
1. Märchen Holz Bild / Fairy Tale Wood Picture
2. Kinder Wand Figur / Wall Figure Children
3. Laubsägearbeit / Fretwork Plaque Cut Out
4. Schichtholz Sperrholz / Plywood
5. Antikspielzeug / Vintage Antique Art Deco Wood Toy
6. Kinderzimmer Deko Deutsch Alt / Old Nursery Decor
7. Holzspielzeug Märchenfigur / Midcentury
8. Jahrhundertmitte / Shabby Chic Real Vintage
9. Hobby Erzeugnis historisch / Hobby Arts and Crafts
10. Kulturerbe Projekt Deutschland / Heritage Project
11. Made in Germany / Kitsch German Design 4/22
https://mertens-heller-kunst-collector.de/wp-content/uploads/2023/09/IMG_5862.jpeg
300
300
Chrissie
https://mertens-heller-kunst-collector.de/wp-content/uploads/2022/08/A82B26F6-0CA8-4A14-A230-5EDB272F80D7.jpeg
Chrissie
2023-09-17 09:56:05
2023-09-17 10:09:00
Mid-Century Hexenhaus mit verworfenem Entwurf! 🇬🇧 Witch House Snow White!